An event theme is a work of art itself, with complex installations which bend the perspective and inspire creators. While the ideas for themes come from can vary, however the power of culture and art drives new experiences, reaching as far back as the classical period.
Movies, books, stories, fairy tales, works of art, architecture and cultures have been the starting point for dynamic and versatile themes which grow into icons of their own, shaped by the ideas of many individuals who build on the experience.
The imposing architecture of medieval castles, the elegance of a Bohemian getaway, the decadence of the Gatsby era, the fantasy of Alice in Wonderland and the story of a Midsummer Night's Dream have let attendees discover what it's truly like to be a part of history and art. Every theme has sculptures, props, canopies, backdrops and interactive installations which have been dreamed up by designers and planners, including the giant glowing flowers of Alice, the melting figures of Sugar Rush, the art deco of Gatsby and the theatrical masks of a Midsummer Night's Dream.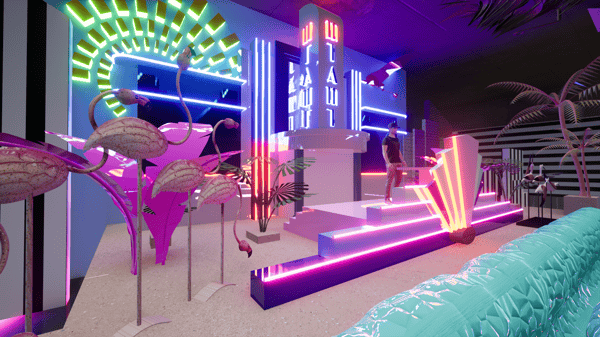 Architecture
The urban lifestyle is as creative as it is iconic. Architecture from all over the world and through eras becomes integrated with the experiences we now crave the most. The neon streets of Miami show off their wild side, in a theme which re-imagines their high street casinos, theatres and hotels. Pastel colours, geometric lines and dazzling lights fuse into a stage that takes its viewers to a new destination.
The famous carnivals and colourful streets of Rio shape their own theme into the soul of the tropics. Deluxe foliage, giant feathers, carved faux stone architecture and exotic creatures create a display of colour that embodies the spirit of this metropolis.
Travelling back in time to the roaring 1920s, the Gatsby era takes us to Broadway streets through golden art deco architecture, gold leaf palm trees and giant casino dice. The shape and glamour of each gilded structure lets the audience imagine they have discovered a new city.
Novels and Stories
Stories are the perfect companion to an event or other experience. They have a rich litany of environments and characters, which can drench any venue in engaging visuals. A Midsummer Night's Dream twists around any interior or outdoor habitat, its branches and fairies enchanting the premises with a story that comes alive. Glowing trees, animated dragonfly holograms, magical lighting, giant theatre masks and rich green foliage tells this tale of Shakespeare which an audience can truly become a part of.
Going beyond the looking glass, a visitor can fall into the world of Alice herself, in a theme as diverse as it is imaginative. This theme has found itself fused into other themes, lending its creativity into a futuristic setting or a jungle adventure.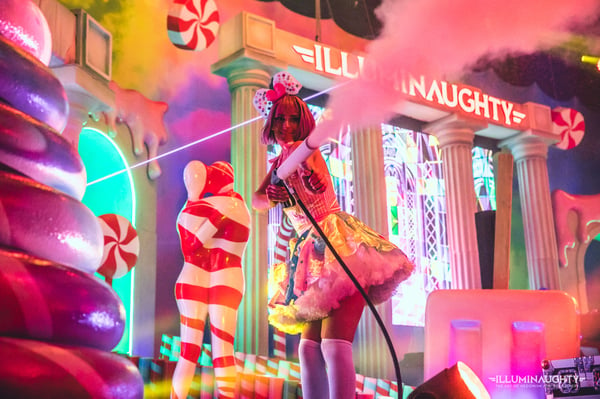 Music
The 'Sugar Rush' theme was inspired by a song 'Sugar Rush' by Fabio Fusco, which fabricated itself into a world of oversized treats, melted ice cream and candy-infused figures. Music has the potential to create entire landscapes through its lyrics, ideology and message. The Sugar Rush theme premiered at the IllumiNaughty event at Troxy in London, as a theme which transformed a 2,000 capacity building.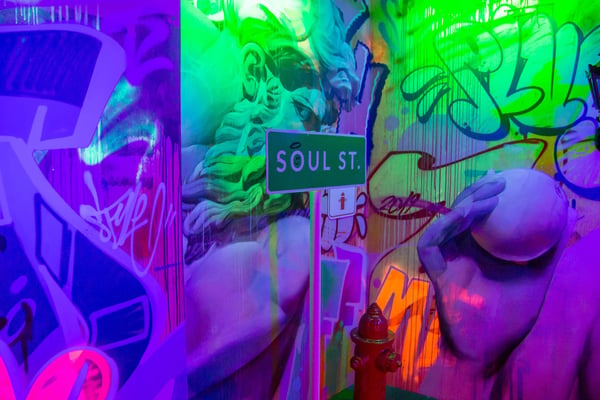 Art & Culture
The interior of the famous Soul Street restaurants in Dubai and Zurich have been renowned for their embodiment of street food cuisines from cultures around the world. Mural wall art and graffiti depicts classical Roman sculpture art to the settings of far East Asia, as diners go on a journey through both visuals and flavour.
The Pop Art culture from the 1950s and 60s turns a venue into a living comic, with Warhol icons becoming part of lively photo opportunities, entrances, archways and canopies. Every image tells a different part of this unforgettable era.
The traditional Day of the Dead festival in Mexico has become one of our most extravagant themes. The candy skull decoration so prominent in every celebration becomes a cornerstone of this event design, fusing into stage structures, hanging elements and even across the canopy.
Do you have a story, piece of music, art, movie, city or other setting which you want to see become an environment which visitors can walk through, see first hand, hear and touch in a vivid experience? Our design experts can evolve a concept into a larger-than-life theme through the creation of features, sculptures, lighting and interactive installations, each which bring to life a different part of the idea. Everything is rendered in 3D to be viewed and adapted to preferences before anything goes into construction, and your vision is realised.
Want to know more? Get in touch with our designers for a free consultation:
Or see our full range of existing themes here: