In the wake of the Covid-19 crisis, it is now more essential than ever to find new and innovative ways to provide unique and exciting experiences that adhere to the Government's most recent social distancing guidelines.
Although these guidelines mean that events are more regulated, and therefore more restricted, than ever, it is also a rare opportunity to offer more stylistic and exclusive experiences to eager attendees in a safe and sustainable way.
There are currently a number of social distancing techniques being used at a wide range of events and venues. These include social pods and other creative seating areas, such as Christmas globe pods, as well as drive-in experiences and sit-down shows. We explore all of these options below.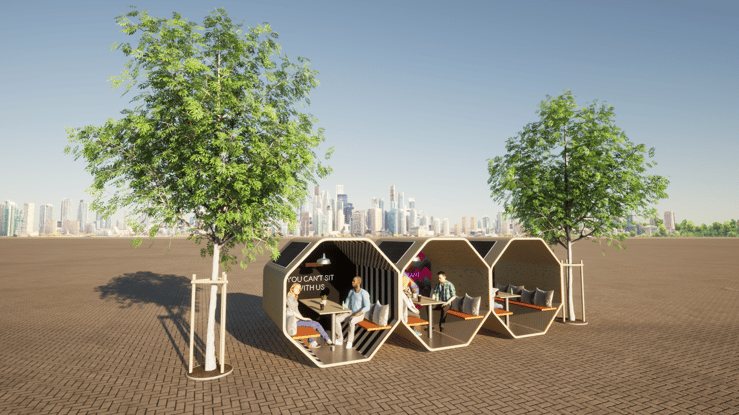 Social Pods
Social pods are a perfect way to enjoy the atmosphere of an event or venue without mixing with attendees outside of your social distancing support bubble. Social pods are designed to sit up to 6 people, keeping in line with the guidelines regarding small gatherings.
These social pods can be easily installed anywhere, from outside events to indoor spaces, and the octagonal design means that social pods can sit neatly next to one another to maximise the available space. Rooftop solar panels also provide mobile phone charging points, as well as heat lamps, which are optimal for outdoor use all year round.
The social pods can be open-fronted, or a door and windows can be added to enclose the space. When enclosed, these social pods can become self-contained environments by use of foliage, neon signs and light boxes. All of this decor can be designed bespoke and can be tailored to the specific event or venue, easily incorporating the brand's theme, for the ideal photo opportunities that are sure to guarantee a wide social media reach.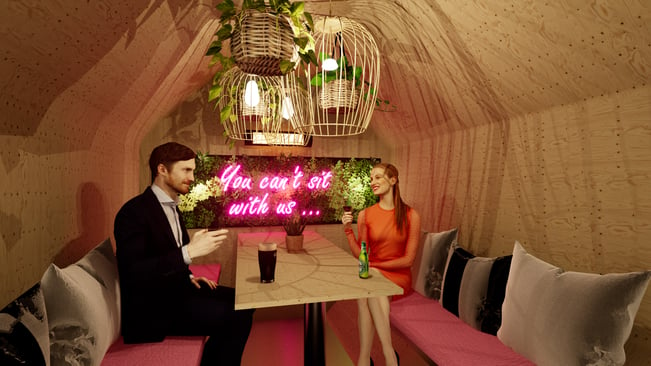 Creative Seating Areas
Stylised and socially distanced seating areas can be incorporated into any sit-down event, from immersive dining experiences to sit-down DJ shows and stage performances. A wide range of themes can be utilized when designing these seating areas, turning any sit-down event into a unique experience that assimilates all of the elements of a standard show along with an immersive atmosphere in order to keep the entertainment level high for attendees.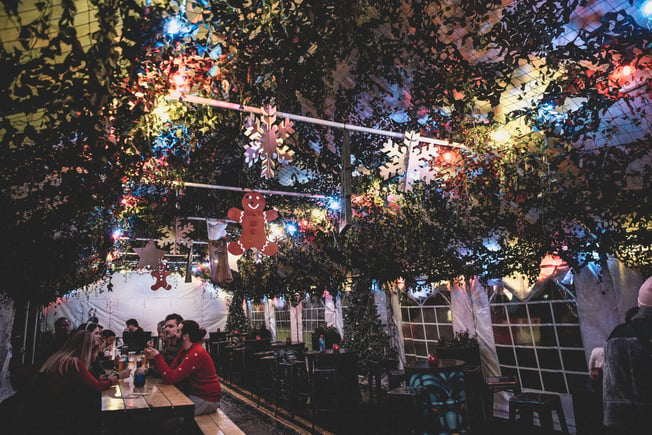 Drive-In Experiences
Drive-in experiences are a very popular type of event at present, as attendees are able to enjoy an immersive experience from the safety of their cars. A wide range of themes can be used for drive-in experiences, including Halloween and Christmas, and live performers can be incorporated to add an extra immersive element to the event.
An example of this is the extremely popular ScareCity in Manchester, an immersive Halloween drive-in cinema designed by Visual Architects. This immersive experience included a three-metre high, ten-metre long 'Tunnel of Doom' for cars to drive through and live performers portraying nightmarish characters who stalked the car park during film screenings in order to provide the attendees with an additional scare as well as extra photo opportunities.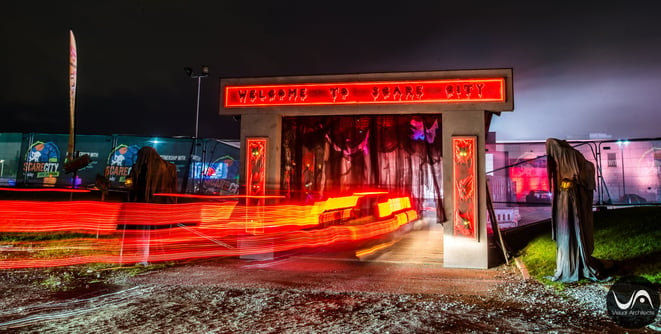 Christmas Globe Pods
Christmas globe pods are essentially a themed version of social pods, stylised to look like igloos or snow globes. Although the circular shape of these pods mean that conservation of space is slightly less practical, they are just as easy to install in both outside and indoor areas as the standard octagonal social pods.
With the Christmas period fast approaching, and the yearly outdoor Christmas markets cancelled for the first time in recent memory, these Christmas globe pods are the perfect way to inject some much needed Christmas spirit into any event or venue while also keeping attendees safe and secure via social distancing.