After the stress of finding a venue for their wedding, the next challenge the couple faces is what they'd like it to look like. The space is the setting for their big day and so it's important that it is as unique as they are. After the long lockdown period, couples are changing their ideas on fundamental lifestyle choices, and weddings are no exception.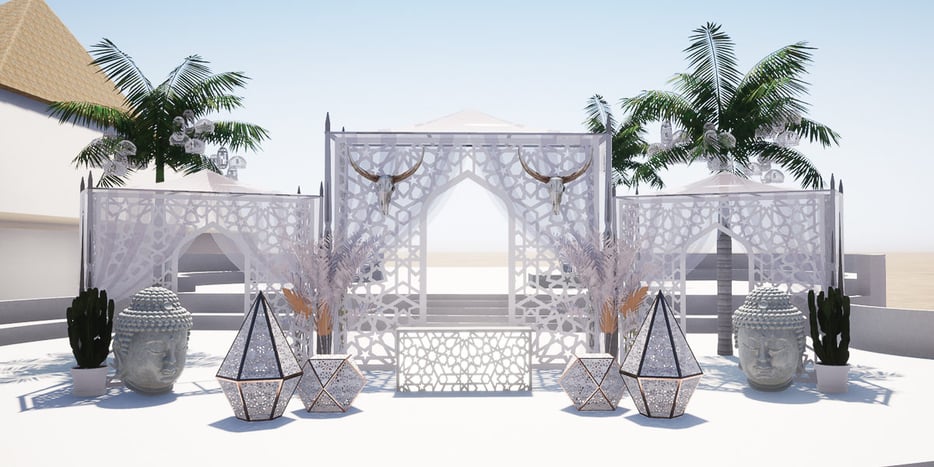 What people are looking for in 2021 are wedding designs with individuals in mind, and when it comes to weddings you always have to be flexible. The important thing for all these designs is that they fully encompass a world that the guests can get lost in, and let them celebrate without distraction. We offer everything from archways to centrepieces, photo opportunities to seating areas, with seasonal touches or whatever else the client asks for.
Designs can be as exotic as the honeymoon itself. White Bohemian styles create a relaxing getaway with the atmosphere of sunsets and sands on pristine white beaches. Fill the space with macrame tapestries and drapings, and create a backdrop for intricate gemstone designs, floral walkways and luxury sitting areas. Creates an open feel regardless of the size of the indoor or outdoor space.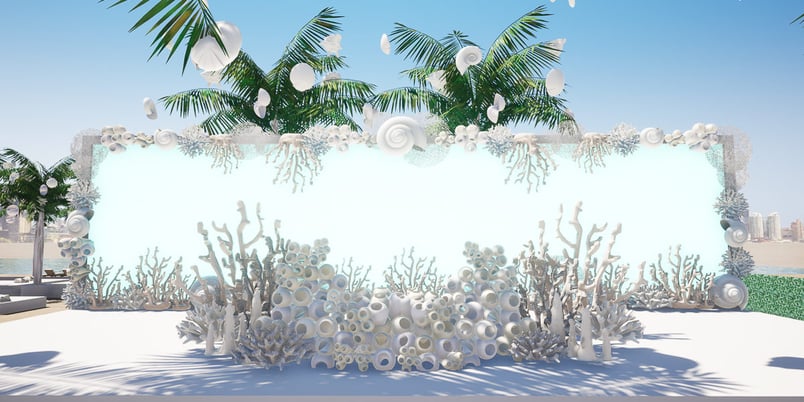 An extravagant Diamond Coral design takes the same beach vibe but strips it back to nature. Walkways and centrepieces are all decorated with larger than life shells and coral sculptures in a clean, pale colour palette.
For anyone wanting the flip side of quiet bohemian, go wild with a Moulin Rouge theme. With everything washed in red light from individualised neon lettering and walls draped in red velvet curtains, any space is transformed into the glitz and glamour of broadway theatre. Perfect for talking over a whole space, or for signature features such as bespoke gold photo frames for large outdoor or indoor venues.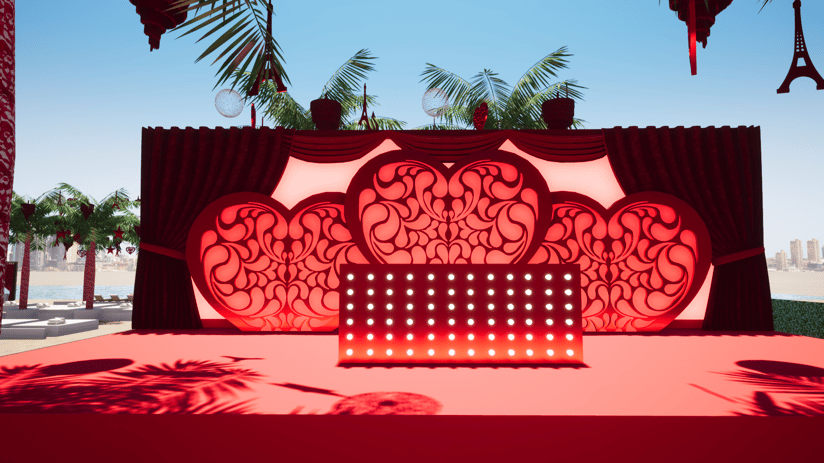 With a foliage canopy entwined with exotic flowers and vines, any space can be transformed into a rainforest paradise, complete with neon signs for a touch of modernity. Brought together with beautiful walkways and keyhole entrances, guests can lose themselves in this world.
The 1920s were the perfect start for a touch of Gold Glamour, as guests sip Champagne amongst casino lights and gold curtains. Any space can be transformed to the height of this roaring decade with the added touches of golden palm trees and of installations designed to the client's personal taste.
For a touch of magic, myths and fairy tales, explore a Wonderland; a foliage backdrop with bright coloured touches and wonderful creatures mixed in. With chest set and card trick sculptures, or any custom design you want to make the wedding out of this world.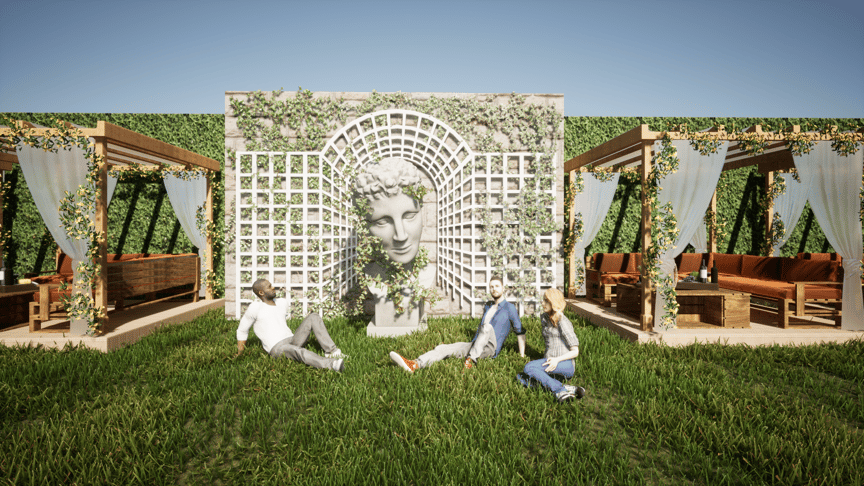 The same touch of magic transforms the venue into a winter wonderland, complete with snow covered trees, ice sculpture motif designs and cosy seating areas for the guests to snuggle up on. Castle archway designs divide up the space as well as providing a backdrop for elegant snowflake patterns and faux fur throws.
No wedding would be complete without photo opportunities, giving your guest the perfect chance to capture moments they'll never forget. Beautiful foliage and floral backdrops are perfectly lit with dynamic and elegant lighting, and covered in designs which perfectly match the theme and clients' individual requests.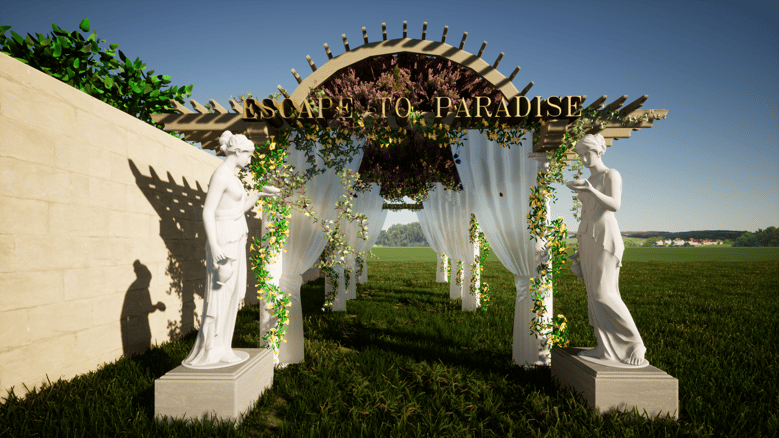 Looking for something to really catch attention? A fun and creative taxi photo opportunity, allows guests to step inside a fitted-out London cab interior covered in deluxe foliage and colourful neon signs. This is perfect to add character to your wedding as each sign can be customised with a personalised message.
Show stopping lighting or confetti sequences can also make for great photo moments. Confetti cannons, glitter, balloon drops and other special effects are suitable for both indoor and outdoor events. Performers and characters can really bring your theme to life, greet your guests or put on fully choreographed shows for dining experiences to add comedy and entertainment to your wedding.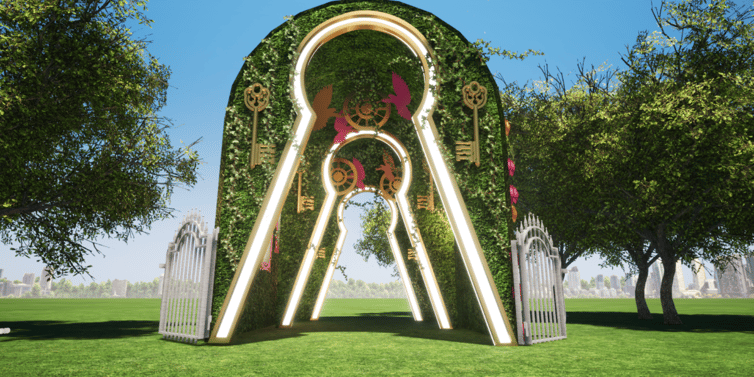 If you have been inspired with new ideas for your wedding, but you have something unique in mind, our 3D schematics and renders allow you to visualise your designs and make any detailed change you like. We can create a range of bright and innovative designs based on your ideas for you to choose from, and would love to discuss the vision for your wedding!