How To Choose A Theme?
So where do you start when deciding on a theme? This can be for an event, a dining experience, a retail design or permanent interior for your restaurant, bar, hotel or cinema, to tie all of your decor together. You can just browse through our list of themes and pick one you like, or if you want to ensure that your theme is coherent to your brand and how your audience relates to you, it may be more complicated. This article guide helps to link together popular themes with your audience. We look at audience persona, brand identity, colour, location, design complexity and budget, to build an understanding of which themes will work best for you.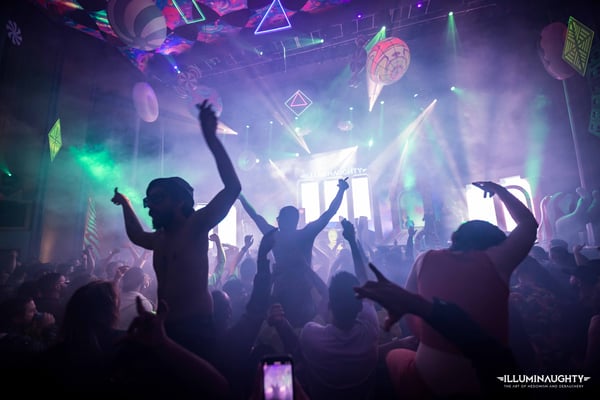 Audience Persona
What is an audience persona? They are profiles we create to represent key segments of your audience, based on their interests, purchase habits, demographics, goals and challenges. It tries to define what is their key challenge, and how your brand can solve it, or alternatively how your brand fits in with their lifestyle choices.
Make a list of each key group within your audience, defined by demographics, what brands they like, which establishments they most frequently visit, what they like to read, where they go on vacation and so on. This can be estimated based on what you already know about your audience, taking surveys are not usually necessary, however applications such as Google Analytics can show you audience demographics and interest information based on the visitors to your website.
Once you have identified your key audience personas, look at what they would like to experience. For example, one major group may dream of exotic destinations, such as Miami or Rio. Another group may be interested in festival holidays, or high fashion. The cornerstone of using personas is to identify what experience you can create which is new to them, helps their challenges and meets their desires.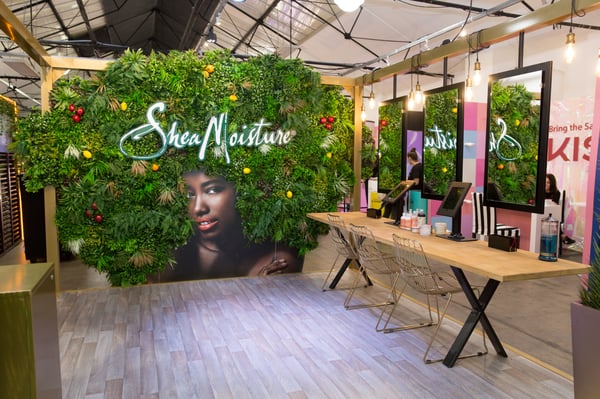 Brand Identity
What is your brand identity? What does your brand mean to your audience? Do you give them an escape, a place to discover new things, a reliable service or new experience? How your brand fits into their lives has key implications for what theme to choose. If they want to escape, you may be looking for a theme which adds avant-garde visuals, a fairy-tale setting or even surrealism. If they are looking to discover, a distant location such as Tokyo Rising, Cyberpunk or a futuristic setting may be ideal. Considering your brand identity is a key part of the correct choice of theme.
You may even want to alter your identity, and an immersive theme is the perfect way to do this. If you want to show your audience a different, more dynamic side of your brand, or to attract new customers. To expand the depth of your brand, the addition of a more visual theme to your event or interior can revolutionise your impact.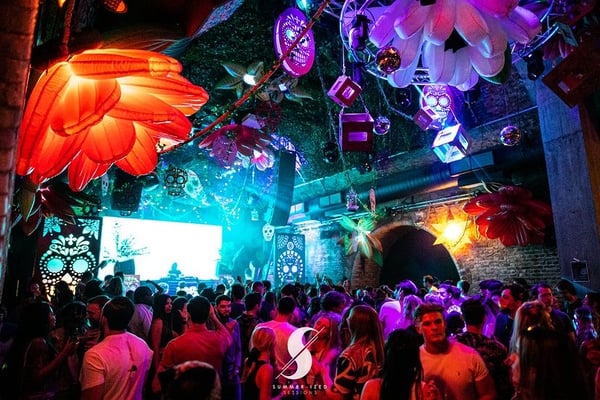 Brand Colours
Brand colours are closely linked to how your audience perceives you, which we will go into more detail in a further article. Every core colour relates to a certain quality; a facet used by brands to decide on their logo and business colours.
🔶 Orange is linked to optimism, clarity and warmth.
🔺 Red is linked to excitement, boldness and confidence
🔮 Purple can be imaginative, wise and grounded
💙 Blue is based on trust, reliability and strength
🌳 Green is identified with harmony, peace and health
🔘 Grey is for balance and calmness
🎥 Black is dramatic, sophisticated and creative
You can link these colour characteristics with an event or permanent theme, as settings can typically be focused around certain core colours. Colours affect how your experience makes your visitors feel, and how they perceive your brand. Ensuring that this experience matches how they already feel about your brand can be essential for building their connection with your business.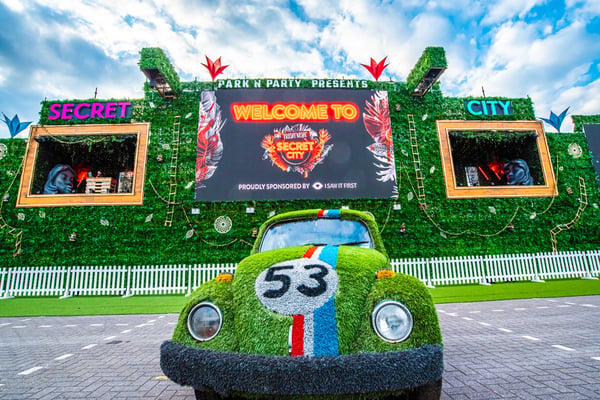 Location
This may seem obvious, but looking at location can considerably affect your theme choice. Start with indoors vs outdoors, as some themes may be far more suitable for either an indoor or outdoor environment. Looking at how the canopy or ceiling installation affects the experience, and how easy it may be to set up in your venue is fundamental.
If a theme is dependent on lighting effects, then it may be less suitable for an outdoor setting, due to differences in its appearance in the daytime, or depending on the logistics of lighting setup.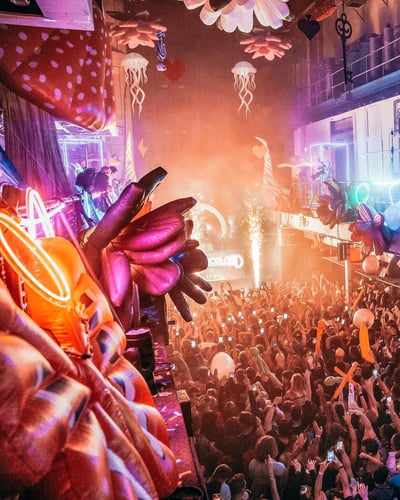 Design Complexity
What elements are most important to you? The stage decor? Photo opportunities? Lighting features? Some themes can be better suited to you, when either upscaled or downscaled according to your budget and premises. New bespoke decor pieces can be created for a unique look for all themes, however some of our themes contain a wider range of additional decor. These themes, such as the Jungle, can be more easily upscaled or downscaled on a budget, as its versatility blends well with other items which can be rented out, providing an original look. Other themes such as our Wild West theme, would require more bespoke items to extend this experience across a wider venue.
We hope that you have found this guide useful, and helps to provide some initial direction when first looking at a new theme. If you want to talk through the selection of a new theme in more detail, our expert design team is ready for a casual chat, or free consultation.
Get in touch with us here: