Now that the experiential event is taking over the nightlife and festival culture, where a venue transformation is even expected in some areas, we look into one of the most important elements of an immersive venue. To develop a complete experience that is believable, a number of key parts need to work together:
Stage Design

Canopy

Suspended Elements

Floor Standing Décor

Interactive Installations

Entrance & Walkways
The canopy, or ceiling transformation is essential for creating the illusion that the attendee is truly somewhere else, and which ties into the other elements and performers. Any indoor or outdoor area can be suitable for a canopy, with few limitations to a bespoke ceiling. But how do you make a ceiling transformation which is believable, unique and distinctively other-worldly? We look into how canopies have taken venues into a new character, and transport them away from the outside world.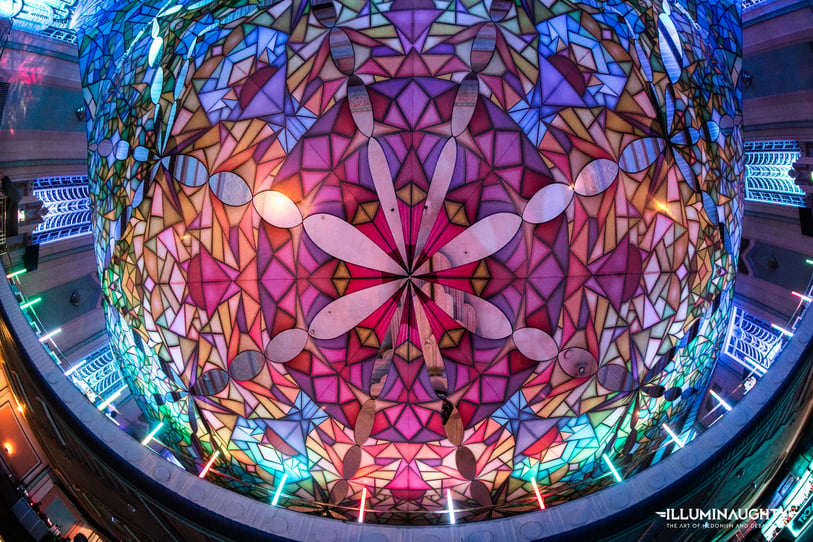 Foliage
One of the most sought-after, dramatic and stunning canopies is pure foliage. A lush, overgrown and flowing transformation, it is one of the most effective ways of turning a dreary indoor venue into a tropical paradise. With so many ways to add variation and features, no two looks ever need to be the same, and can range from the Hanging Gardens of Babylon to a futuristic, UV hyper-jungle. Vibrant inflatable flowers, tropical fruit and draped vines can be used to add exotic and dramatic elements, and tribal symbols can make the theme truly Amazonian. Alternatively, a hidden escape can be created with hanging roses, flourishing greenery and butterflies for a relaxed and charming atmosphere. Ceiling foliage is versatile enough to be applied to a range of different themes, and create a summer vibe in any venue.
Discover how foliage can transform a venue: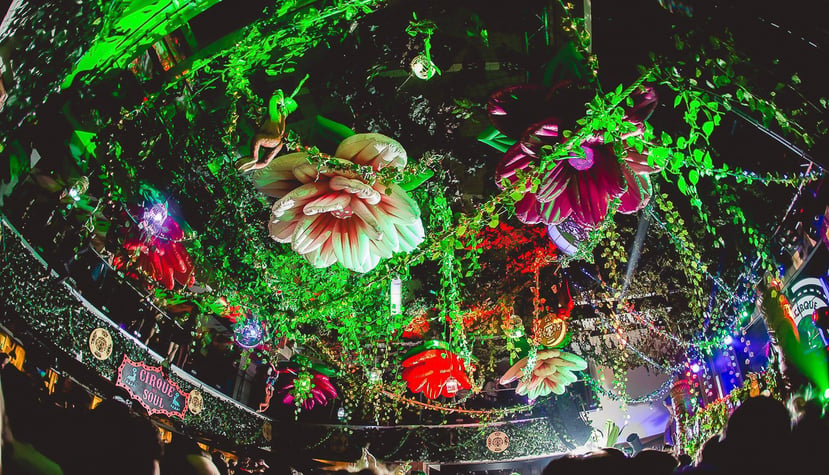 Geometric Designs
Geometric designs can transform outdoor and indoor areas, creating anything from colourful patterns to a life-like stained glass ceiling. Their versatility in dimensions, style and colours allow them to create spectacular shapes and light effects in any venue or area. Such designs have been found at Boomtown Fair and IllumiNaughty, for a dazzling roof over the dancefloors.
Draping
Draping can transform a drab ceiling into a dynamic visionary. Elegant fabric can elevate the ceiling and draw in the centre of attention to the stage or main feature. It can also be used to transform the dimensions of a room, to give lift as if in a carnival tent or as a dramatic installation.
Soft, light and airy fabric is commonly used as it hangs easily from most ceilings and flows with the décor. A translucent material can help create light effects and atmosphere. Heavier, thicker drapes give a more powerful transformation and are more effective at altering the appearance of room dimensions, as well as allowing brighter and bolder colours to bring the venue to life.
For some ideas, see these sections and projects: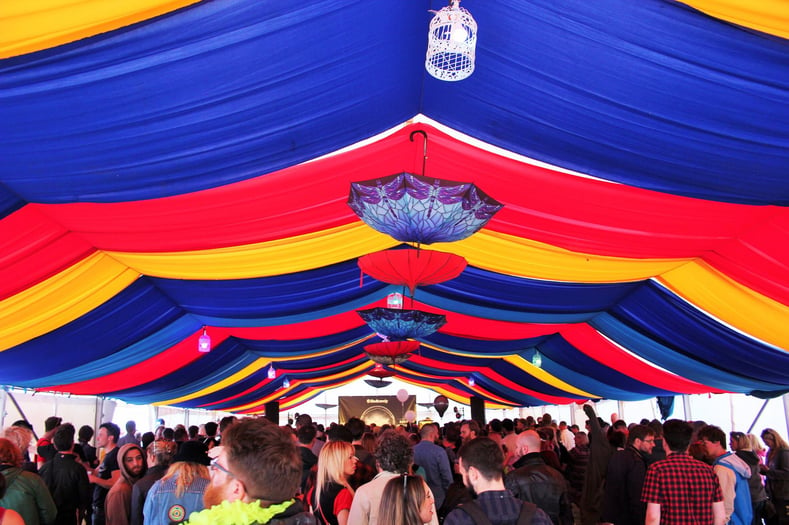 Unsure of how to transform your next event? Our team can design a complete concept that works with your brand, and develop your image and message. Get in touch with us to discuss what will take your event out of the ordinary and leave a lasting impression.