Immersive dining experiences are helping companies take the next step in their branding and event promotion, with everything from fairy-tale settings to pure comedy. Restaurants are incorporating permanent fit-outs as part of their décor and atmosphere, which defines their identity and helps them to connect with customers. At a time when more businesses in the hospitality sector are competing with each other in the same space, they are discovering the creative ways that their brand can be enhanced and customer loyalty increased, through immersive décor.
Concept Development
One of the most difficult and complex stages of designing a dining experience is the development of a unique concept that remains consistent with the brand message. The décor needs to fuse with the brand to deliver not just a look, but an atmosphere that your customers or audience can identify with you. The setting needs to be interesting and creative enough to be remembered, with still with ambiance and a relaxing nature that suits a dining experience. These factors together result in one of the most difficult concept development processes for a décor design.
Our team of expert designers research your main audiences to curate a range of concepts that build on your brand image. Using your venue dimensions, we understand how to incorporate features that work with the restaurant spaces to create an immersive experience. This includes floor standing, ceiling and wall décor, along with hanging elements, interactive installations and signature entrances, that all work together to create a new and captivating environment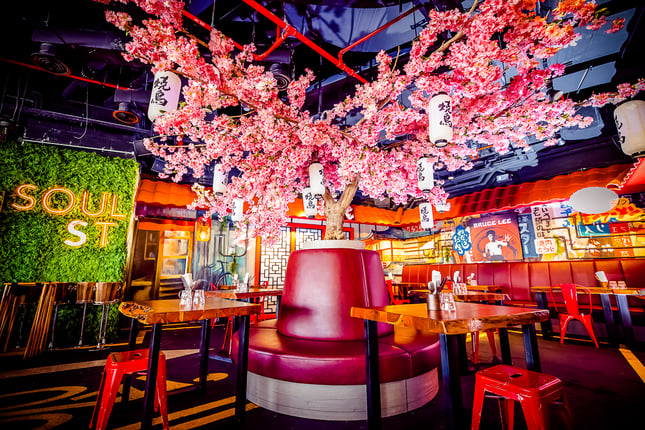 Soul Street
The renowned Soul Street restaurant, located in the standout luxury 'Five Jumeirah Village' hotel in Dubai, has recently been voted in the top 20 most beautiful restaurants in the city, and lets customers dive into a variety of cuisines as if they had traveled there themselves. A combination of murals, hand-built installations and features including a 1950's American Cadillac were designed to embody the heart and soul of the street food styles represented within the restaurant.
The result was Soul Street opening as the go-to place for after-work drinks, lavish bites and real soul food, along with being dubbed as one of the most Instagram-ready spots in Dubai.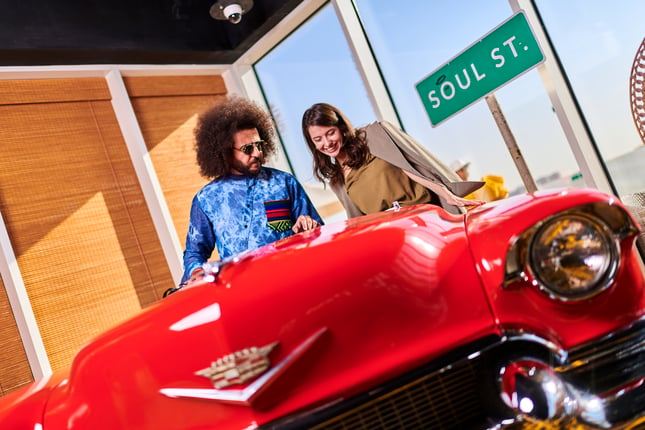 The Cottonopolis Experience
Looking for some inspiration? The Cottonopolis dining experience was one of our most extravagant dining creations that brought together a futuristic setting with Steampunk culture. Diners could enjoy a twist between two eras with a technical theme that ran throughout the event. The Steampunk setting included a fully functional clock, mechanical parts, industrial-age lighting and decorative devices.
The 'futuristic' room fast forwarded diners to a space age of infinity mirrors and alien artefacts, enhanced with lighting effects. A theme perfectly suited to those who preferred an edgier experience, it brought the venue across social media channels as a standout gourmet evening.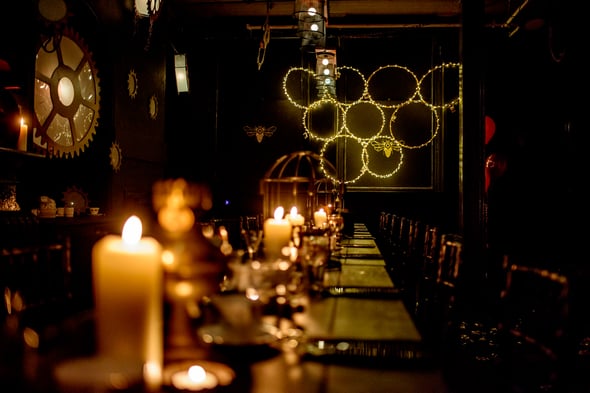 The Baltic Experience
This stylish restaurant wanted a sophisticated yet standout look for their Christmas, St Patrick's and Halloween events. After our team developed a range of concepts, designs and 3D renders to discuss with the client, the atmosphere and features were fine tuned to stay as close to the brand as possible.
Different holiday themes require a new concept for each event, but which all give the same underlying feel and message of the restaurant. This is a challenge for many brands whether across the events industry, retail or other sectors. Each new development needs to be unique enough to keep the audience engaged, without straying too far from the identity that the customers associate with the brand.
Mamarosa Restaurant
This restaurant wanted a truly immersive theme that allowed customers to choose between a trio of variations. Each part of the trio remained under the same overarching concept, but provided a unique character that gave deciding diners a sense of adventure.
Each room was an overgrown paradise of woodland creations. Each experience was accessible through a signature keyhole entrance, and let diners into either Alice in Wonderland, a Day of the Dead theme or a tropical TIki destination.
Draped flowers and vivid colours brought to life each bespoke character, with a backdrop of fantasy décor creating a fairy-tale setting for diners to enjoy.